California Central Coast PCA Members
The Infinite Music Foundation has asked the CCC PCA region to support a music festival in Harmony, Sunday, June 2nd. They will have a Porsche Corral set up to display your beautiful Porsche in downtown Harmony, just north of Cayucos. The day will be filled with music, displays, food and drink all for a very good cause. See the attached brochure below for information on the musical guests and how to buy tickets.
Infinite Music™(IM) is a 501c3 grassroots organization dedicated to offering musical opportunities that are accessible and affordable for local youth. Since 2013, we have reached over 250 young people with musical opportunities including private and group after-school music lessons, new instruments, live music performances, workshops with professional musicians, and performance opportunities.
Infinite Music™ believes that music is the springboard to learning for all students, regardless of academic level, language, or socioeconomic status. When young people are introduced to music, it serves as a great equalizer, a force for good, and a brilliant outlet for creative expression. IM is an all volunteer organization, currently staffed through the activities of a dedicated board of directors and volunteers. Every dollar we raise goes directly to advocating music-making for young people! See more at www.InfiniteMusic.org.
Please let Bob Bruington know if you can make it or if you have questions, at Aircooled911sc@gmail.com or 805 431-091. Infinite Music Directors would like a approximate head count to set up room for the Porsche Corral.
What better way to support music education for local youth than at Infinite Music's new annual fundraising event in Harmony!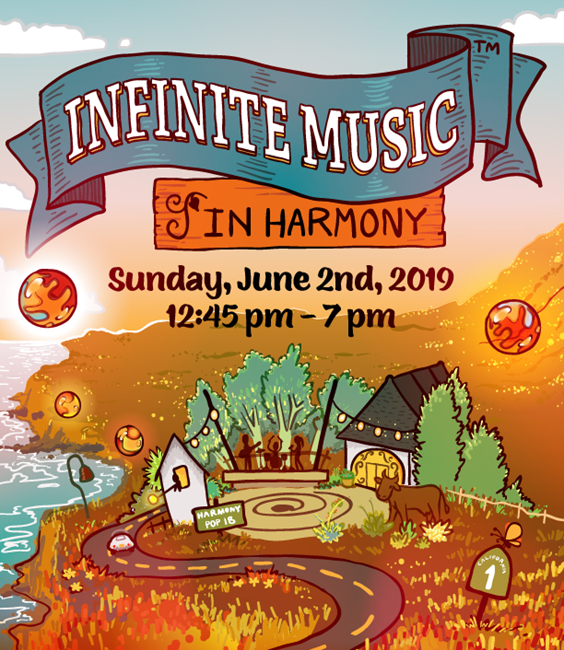 Featuring an amazing musical lineup—what a party!
MESTIZO BEAT • TOM BALL & KENNY SULTAN
CHRIS PIERCE • MARTIN PARIS
VON BUSH QUARTET w/ Taylor Hatch
• Dance to live music on two stages in the Harmony Courtyard
• Chow down on great eats from Higgie's World BBQ, and the best in ice cream from Harmony Valley Creamery
• Enjoy the varietals of Harmony Cellars boutique wines and locally-made craft beer
• Shop art vendors including Harmony Pottery, Harmony Glassworks, live painting and more
• Bid on travel stays, art pieces, dinner certificates, tickets to concerts, musical instruments, and more in our sensational Silent Auction
• And win fine local wines in our fabulous wine raffle!
Bring your friends and meet some new ones at this entertaining musical gathering in Harmony, and celebrate a GREAT cause in music advocacy for local youth.
Get more details on website or call 1-888-285-5893, ext.4